Working together to inspire a diverse engineering workforce
FCDO Services are proud to announce that we have signed up to The Tomorrow's Engineers Code. With a rich history in engineering and technical security, dating back to World War II, we're a natural fit to join over 250 other signatories.
We're committed to helping increase the number and diversity of young people entering engineering careers. By joining this community of like-minded organisations we move closer to that goal.
Members of The Code play a vital role in growing, driving and shaping its development. This is a fantastic opportunity for FCDO Services to join forces with both large and small engineering companies, government departments, universities, STEM outreach organisations and more.
Mike Astell, FCDO Services CEO said:
I am really excited to be a signatory of The Tomorrow's Engineers Code. Increasing STEM and outreach activities is essential to encouraging young people to consider careers in STEM and engineering. Joining The Code, will help us do that."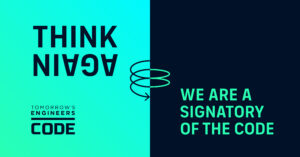 Share, connect and improve
With a joined up approach, we can drive change at scale.
We can also share our best practices to gain insight and expertise, connect with other organisations, and collaborate to improve our wider impact.
Together as a collective, we have a greater chance of building a more diverse workforce in engineering. That's important for the ongoing success of our industry and the world of tomorrow.
Talent Outreach Lead at FCDO Services said:
The resources and the opportunity to learn from other signatories, will help us to further develop our outreach provision, both to the young people that we are currently working with and those we hope to work with in the future."
Supporting our outreach strategy
As part of this community, we now have access to The Code, which maps and supports the delivery of our own Outreach Strategy.
It will support us to successfully attract more diverse young people into our science, technology, engineering, and mathematics (STEM) careers.
The four pledges
The Tomorrow's Engineering Code is shaped around pledges designed to collectively improve how we fund, design and deliver engineering outreach work with young people.
These pledges are:
Inspiring connection – deliver more real-world STEM activities to provide a relevant, rich and sustained journey for all young people
Driving inclusion – prioritise funding, creation and delivery of engineering-inspiration activities to under-represented groups, ensuring no one is left behind
Showcasing engineering – promote a positive, compelling, and authentic view of engineering. Showcase the breadth of opportunities and the real-world impact a career in engineering can have
Improving impact – share what works with our outreach provision with other organisations that have signed up to the Code. Develop good practice and drive continuous improvement in delivering STEM and outreach activities across the signatories
Melanie Washington, Director of Engagement Projects at EngineeringUK, the organisation behind creating The Tomorrow's Engineers Code, said:
We're proud that, in just over two years, The Tomorrow's Engineers Code community has grown to over 250 members. Given the acute skills shortage and the UK's net zero ambitions, it's crucial that we continue to attract more young people, from all backgrounds, to go into engineering and technology careers.

With The Code and its four pledges, we're able to make important strides towards this by improving the quality, inclusivity, targeting and reach of activities designed to inspire young people. I'm delighted that we've welcomed so many new members and, I'm confident that, together, we can inspire more and more diverse young people so they choose a career in engineering and technology."
Further links
Explore the programmes we have on offer this year, and see what appeals to you or someone you know

A community working to increase the diversity and number of young people entering engineering careers